Taking your business global entails risk: entering new markets, taking on new competitors and facing new challenges you've never handled before.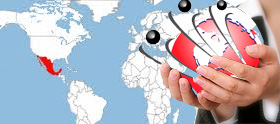 It also requires managing business logistics that become increasingly more complex, with added functions and people to oversee. It means taking your business into new areas, selling outside the home base, introducing new products, and developing innovative ways to deliver products and services. In order to maintain growth and a healthy balance sheet, your business may require sourcing of materials or manufacturing overseas.
Meticulous planning for growth is very important in determining the outcome of your business expansion. Working with Head Start Business Consulting will help ensure your targeted growth and success by executing a carefully planned strategy through our professional collaboration. Our start to finish model allows for your comprehensive growth. Based on your needs; whether planning and starting, obtaining funding, starting overseas manufacturing, or expanding your business into new markets, we guide and develop our clients at every turn in the road, empowering them to succeed as professionals.
What we can do for you:
Starting and managing a business takes motivation, desire and talent. It also takes research and planning. Like a chess game, success in business starts with decisive and correct opening moves. Avoiding initial mistakes takes skill, discipline, and hard work to compete successfully on a global level.
To increase your chance for success, let Head Start Business Consulting work with you to explore and evaluate your business and personal goals. We find solutions tailor made for your needs; our consulting services cover formation and funding through production and marketing.
Head Start Business Consulting's foundation is based on ensuring that your business is always in the optimal position to achieve success. We specialize in small and medium sized businesses, and our services are geared to fall within your budget. Pricing for your project will vary depending on your requirements. Contact us today for your free client consultation.
Recent Testimonials
"A thank you to all the staff who assisted us in the process of securing funding. Your private placement memorandum helped us a great deal, after being turned down by the SBA, we were out of options. We are now in the process of remodeling our 9th property for sale" G. Henry, President G. Henry Realty
ThemeForest Customer 1
"We attempted to write our own business plan, and even purchased a fill in the blank template from the Internet, but we just could not get the financials to meet the requirements of investors and Venture Capital firms we approached. You got us over the hump, and we received our finished documents in less than a week! Incredible service, and excellent advice. Thank You!" J. Cameron, Co-Owner, Elite Academy Day Care
ThemeForest Customer 2
"I would like to thank you for the fast service and delivery of a very well written business plan. We were able to secure funding through an SBA Loan and have opened our first location. Your advice and documents were valuable beyond words" T. Hernandez, Owner Fasta Pasta
ThemeForest Customer 3